Back to Portfolio Listings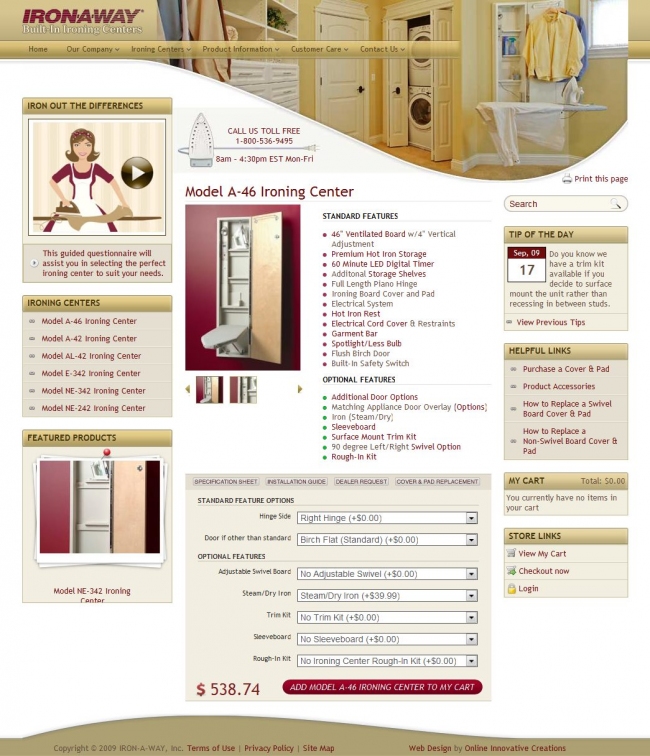 Tags:
Retail Web Design Peoria IL
Ironaway.com
The search for a professionally designed retail website is over. Here at OIC Group, we provide locally focused, fully custom web design in Peoria IL. Our website design services for retail stores and ecommerce sites include much more than just simply web design. We offer custom website development, content management system (CMS) integration, and a wide range of Internet marketing services. Regardless of the nature of your retail business, our services for web design Peoria IL can meet you objectives.
The web design showcased above is for Ironaway.com. Iron-a-way is a leading provider of built-in ironing centers. The Morton company, based just outside of Peoria, Illinois came to OIC Group needing a website with complete online shopping capabilities, in addition to clearly presented product information and file downloads. The Peoria web design specialists of OIC Group integrated all of these features while ensuring the site was both SEO friendly and mobile friendly for smartphone browsers. The site also features an interactive video questionnaire to guide customers in choosing the right ironing center to fit their needs.
SEO-Friendly Web Design Services
Nearly every website design project at OIC is centered on search engine optimization. Our technical specialists develop the site's back-end code, or HTML, to be highly SEO-friendly for fast crawling and indexing by search engines. In addition, by integrating our Exponent CMS, users can keyword optimize each page of the site with ease. In essence, our Peoria web design company maximizes search engine potential without sacrificing functionality and control.
Locally Focused Web Design Peoria IL
Our services for web design Peoria IL focus on the creation of both SEO-friendly and CMS integrated website. In addition to specializing in custom website design and web development, our experts also offer a number of technical and strategic web marketing services. Our team offers expertise in a wide array of Internet marketing capabilities, including SEO, Pay Per Click (PPC) advertising, and social media marketing. We can help you accomplish your website objectives with a vast collection of services and expertise.