Back to Portfolio Listings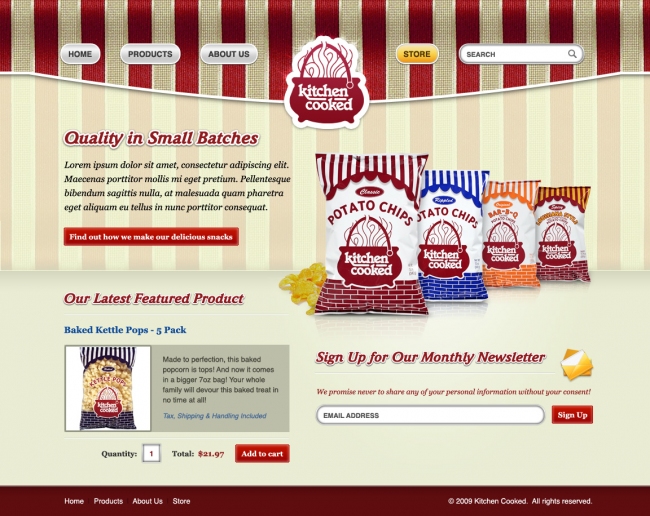 Tags:
Retail Ecommerce Web Design Peoria IL
Kitchen Cooked
At OIC Group, we provide affordable ecommerce web design services for Peoria IL retailers and online stores. We can custom create an ecommerce website to be tailored for online retailers of all sizes. Our Peoria web design team builds fully functional websites that present products in a clean and organized manner. We center our ecommerce web designs to offer easy navigation, optimized page structures, and streamlined sales funnels. In addition to providing a fully custom, CMS integrated ecommerce website, we ensure to capture the unique attributes of your brand.
The ecommerce website design showcased above is for Kitchen Cooked. This particular company needed a simple ecommerce web design that could serve as both a branding tool and an online shopping store. The Peoria web design specialists of OIC Group created a concept that captured the brand image of Kitchen Cooked as well as its products. Additionally, OIC Group implemented an online shopping cart that provides a seamless check-out process. The end result of this Peoria website design was exact what the client was looking for - an attractive, easy to use site that enabled customers to make purchases with ease.
SEO-Friendly Website Features
Almost all of our ecommerce web design concepts are created with SEO in mind. This centers on a SEO-friendly back-end coding structure for efficient search engine crawling and indexing, as well as the ability to keyword optimize core pages of the website. In short, we ensure that any website project we undertake for SEO will address the complexities of search engine optimization.
Local Experts for Web Design in Peoria
If you are seeking a local specialist for your Peoria web design services, OIC Group is a dependable solution with a high degree of experience. Our web design team is dedicated to providing custom web design services that are SEO-friendly and CMS integrated. As a reputable provider for web design Peoria IL, we advocate open communication with our clients, and we address every detail and request they might have.