Back to Portfolio Listings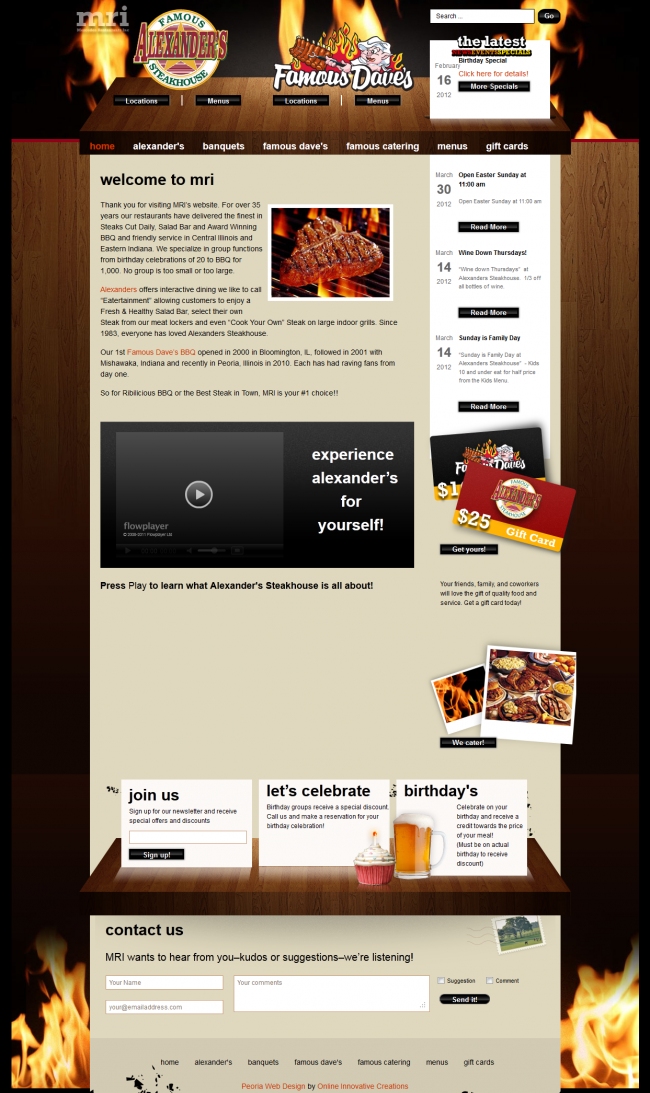 Tags:
Restaurant Web Design Peoria IL
Mercedes Restaurants
Your quest for a creative, yet affordable restaurant web design in Peoria IL is over. At OIC Group, we can style a restaurant website design that matches your brand and is aligned with ambiance of your restaurant. Whether you operate an eclectic cafe, classy city bistro, or 5-star seafood restaurant, our Peoria web design experts can bring out the visual appeal of your establishment as well as the menu and food. The web design showcased above is for Mercedes Restaurants.
The website is complete with easy to find menus, location maps, and shopping cart checkout functionality for gift card purchases. The website for Mercedes Restaurants has been styled to encompass the company's two primary restaurants. The first is Alexander's Steakhouse, which offers an interactive dining experience where customers can select their own steak. The second is Famous Dave's BBQ, which is recognized as one of the top destinations for quality BBQ. Also expressed on this Peoria web design are Mercedes' capabilities in handling group functions and large events, as well as its catering services.
Custom Website Features
We make it easy to showcase your menu and major features of your establishment. Our expertise in web design for Peoria restaurants caters to a wide range of needs for various places. On your site, we can promote food and drink specials, featured menus, as well as social media integration. We can also help you send out email blasts to loyal customers and promote frequent dining incentives. Our goal is to help you meet all of your website objectives with the website features and functionality that matter most.
Local Pro's for Web Design in Peoria
If you are interested in working with a local company for your Peoria web design project, OIC Group is your trusted solution. Our website design specialists are dedicated to providing exceptional web design services that are both fully custom and CMS integrated. As a dependable provider for web design Peoria IL, we promote open communication with our clients, and we absorb every detail they might request. And although our Peoria web design company is composed of small yet personalized team of experts, we provide big agency services at small business prices.