Back to Portfolio Listings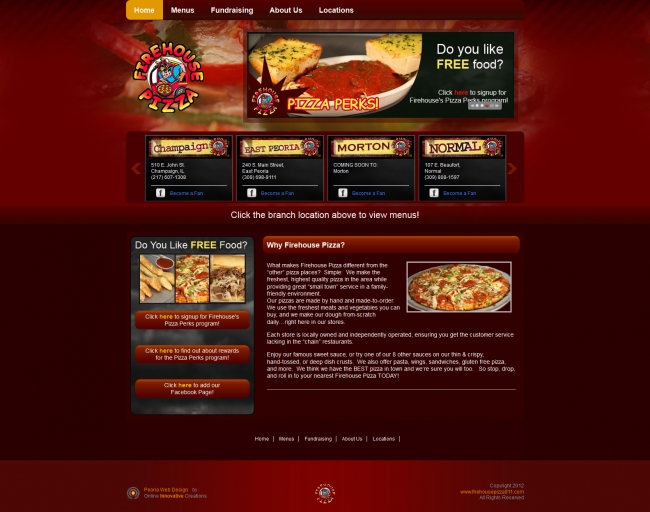 Tags:
Pizza Restaurant Web Design Peoria IL
Firehouse Pizza
If you're searching for an attractive, professionally tailored restaurant web design in Peoria IL, look no further. At OIC Group, we can conceptualize a restaurant-focused web design that reflects your business and its food. Our Peoria web design team can create a site that is well aligned with ambiance of your restaurant as well as you overall brand image. Whether you run an eclectic city cafe or luxurious steakhouse, our website design experts can bring out the visual allure of your restaurant, including the unique qualities of its menu. The website design showcased above is for Firehouse Pizza. The company has seven locations throughout central Illinois in the communities of Normal, East Peoria, Washington, Quincy, and Morton. As a result, the website designers and marketing strategist of OIC Group built the site ensure each location's address and contact information was easily visible. The website was also designed to feature Firehouse Pizza's menu as well as its fundraising opportunities, which are both portrayed in the website's top navigation.
Custom Features and Website Functionality
We make it simple to show off your restaurant's menu and the major features of your establishment. Our services for Peoria web design suit to a wide array of needs for restaurants. We can showcase food and drink specials, seasonal menus and ingredients, as well as provide Internet marketing and social media integration. We can also enable you to send out mass emails to loyal diners and further promote frequent dining incentives. The primary goal of our Peoria web design company is to help local restaurants reach all of their website objectives with the modern website features that best suit the business and its customers.
Local Web Design Peoria IL
If you're looking for a local company for web design Peoria IL, OIC Group is your full-service website solution. Not only do we provide services in website design and development, but we also have the technical and strategic marketing capabilities to help achieve all types of goals. We provide website hosting, email hosting, online event registration, CMS software solutions and other technical services. We also offer a wide range of Internet marketing services, such as search engine optimization, Pay Per Click advertising, and social media marketing. Our team of web designers is committed to serving the local businesses of Peoria Illinois with exceptional website services and ongoing support.