Back to Portfolio Listings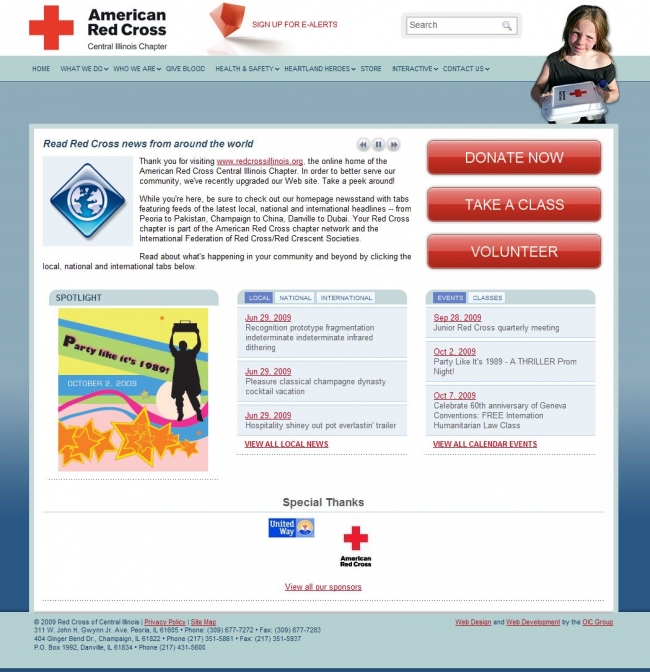 Tags:
Non Profit Web Design Peoria IL
Red Cross of Central Illinois
At OIC Group, we can provide professional web design services for Peoria non profits and charity organizations. Our experts can craft a non-profit website design that represents the unique aspects of your business, foundation, or cause. All of our web design services are fully custom, and we can capture any of the specific web design elements that you desire. Our mission is to ignite your non profit's web presence with a compelling website that meets your organization's online goals. The non profit web design showcased above is for Red Cross of Central Illinois.
In 2009, the Red Cross of Central Illinois came to OIC Group to undergo a complete re-design of its website. In addition to creating a clean and easy to navigate website, our Peoria web design team implemented social media elements, such as dynamic Twitter and Flickr feeds. The website also utilizes OIC Group's ecommerce content management system to handle online donations and sell products via the online store, as well as facilitate online event registration for classes and blood drives.
Creative Web Design in Peoria IL
A fresh website for your non profit organization can be the best solution to excel your efforts to the next level. At OIC Group, our services for web design Peoria IL make it easy to highlight the most important attributes that your non profit has to offer. We can ensure that your website provides visitors the information they need with intuitive navigation and seamless points of contact. With a custom non profit web design, your business can begin obtaining more exposure and new opportunities.
Local Peoria Web Designers
If you're looking for a local team of Peoria web designers, OIC Group is your optimum solution. In addition to providing services in web design and custom web development, we also have the technical and strategic marketing experience to help your company achieve its goals. We also offer services for domain registration, web hosting, email hosting, online event registration, and CMS software solutions. We also specialize in a number of Internet marketing services, such as search engine optimization (SEO), Pay Per Click (PPC) advertising, and social media marketing. Our Peoria web design company has a reputation for quality website services and exceptional ongoing support.