Back to Portfolio Listings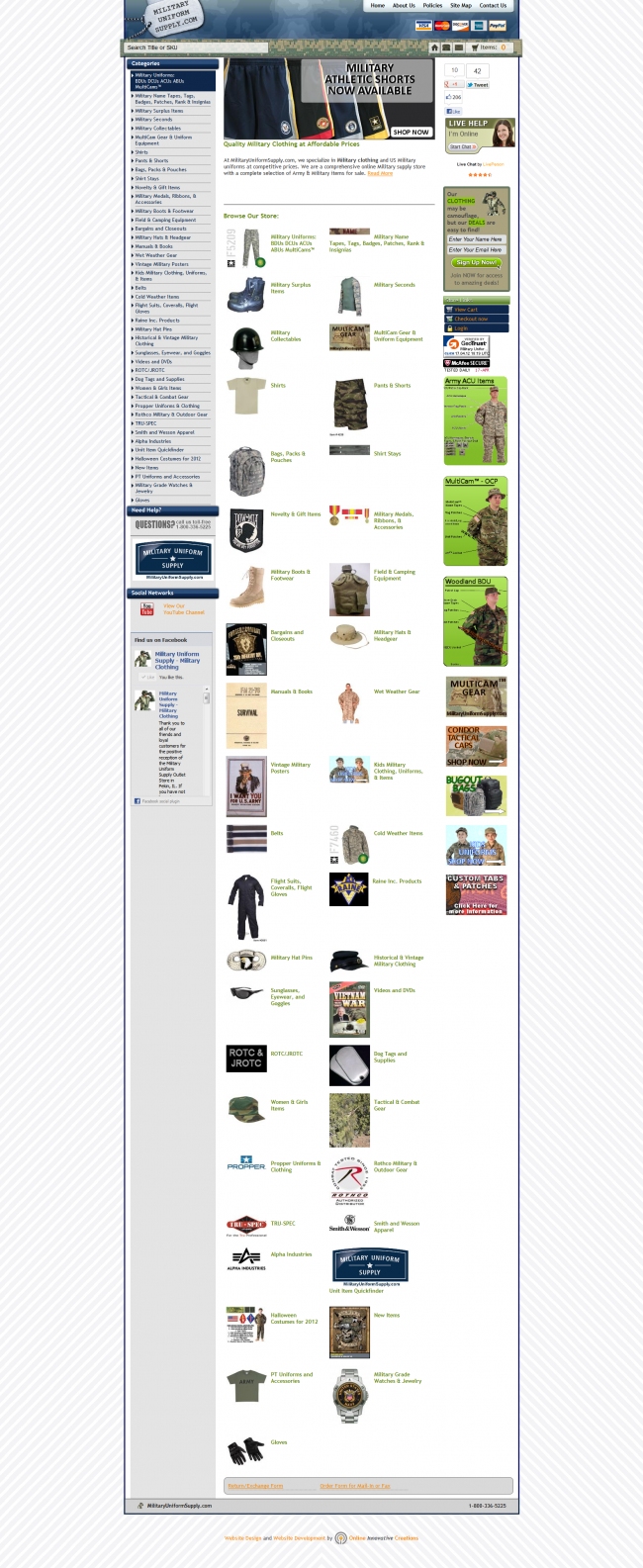 Tags:
Ecommerce Web Design Peoria IL
Military Uniform Supply
At OIC Group, we specialize in ecommerce website design services for all types e-retailers and online shopping stores. We custom develop ecommerce websites with SEO friendly shopping carts and user-centric content management capabilities. The Peoria web designers of our company center their practice on creating fully functional websites that present products in a clean and organized fashion. In essence, we focus on creating ecommerce websites that offer optimized navigation and page structures, along seamless sales funnels and points of contact.
The ecommerce web design showcased above is for Military Uniform Supply. Military Uniform Supply came to OIC Group needing a solution to easily add new products to various categories of the website. OIC Group utilized its SEO-friendly Exponent CMS platform to enable staff members of the company to manage inventory on the website in-house. In addition to providing a CMS functional ecommerce website, OIC Group's Internet marketing specialists designed an extensive website marketing campaign for both organic SEO and Pay Per Click (PPC) advertising.
SEO-Friendly Website Features
Virtually all of the ecommerce website projects we undertake are developed with SEO as top priority. Our Peoria web designers and developers can ensure that the back-end coding structure is optimized for SEO-friendly crawling and indexing. In short, our designers and marketers work together to ensure that any SEO/web design project we tackle addresses the intricacies of search engine optimization.
Peoria Web Design Company
When looking for a local Peoria web design company, OIC Group is your best choice for affordable, fully custom solutions. In addition to providing web design and custom web development expertise, we also offer technical and strategic web marketing services. Our Peoria website design experts work with our Internet marketing team to provide services in SEO, Pay Per Click (PPC) advertising, and social media marketing. We also provide a number of other services in domain registration, web hosting, email hosting, online event registration, and CMS software solutions. Our comprehensive services of our Peoria web design company enables to provide complete, top quality websites backed by dependable support.