Back to Portfolio Listings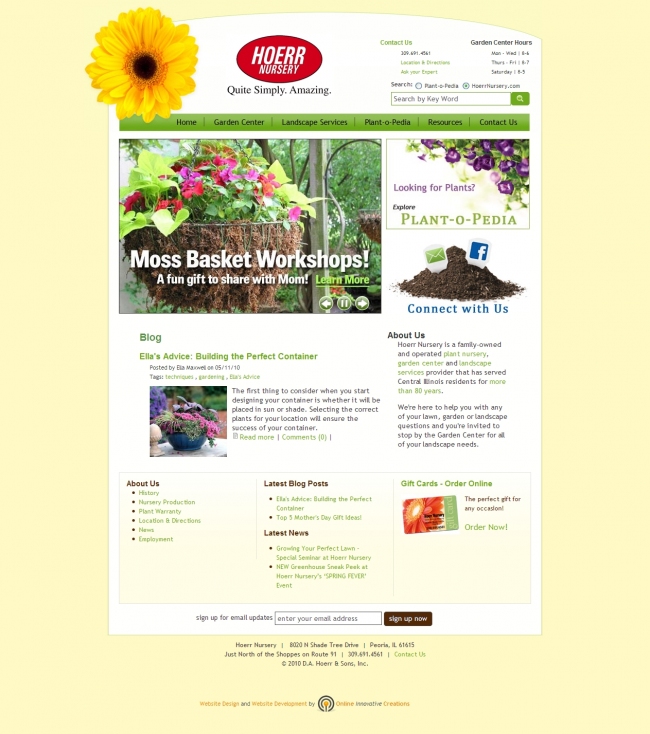 Tags:
Lawn and Garden Web Design Peoria IL
Hoerr Nursery
At OIC Group, offer services for web design in Peoria IL for all types of local businesses. We have experience crafting compelling websites for a wide range of clients, spanning from local professionals to lawn and garden centers. Our services for Peoria web design are fully custom, and we can tailor a website package to meet virtually any budget restraints. The lawn and garden web design showcased above is for Hoerr Nursery. As a leading lawn and garden center in Peoria, Illinois, Hoerr Nursery needed a new web design to cater to its growth and online objectives. In 2010, Hoerr teamed up with OIC Group for a complete re-design of its website. In addition to a more modern look and feel, the website features the integration of the online encyclopedia Plant-o-Pedia. This enables users to search the website for plants by common or botanical name, among other search filters.
Creative Website Design Services
A new website for your business can be the ideal investment to excel your marketing and branding efforts to the next level. At OIC Group, our services for web design Peoria IL make it easy to highlight the significant characteristics of your company and all that it has to offer. We can showcase any number of products and services, as well as equip your website with CMS capabilities for easy content management. With a custom designed website, your business can start capturing more exposure and new opportunities.
Local Web Design Services in Peoria IL
If you're in search for a local company for Peoria web design services, OIC Group is your optimum solution. In addition to providing custom web design and web development services, we also provide domain registration, website hosting, email hosting, online event registration, and CMS solutions. Our team of experts also provides website marketing services, such as SEO, Pay Per Click advertising, and social media marketing. Our Peoria website design company is committed to providing top quality website services and exceptional ongoing support.