Back to Portfolio Listings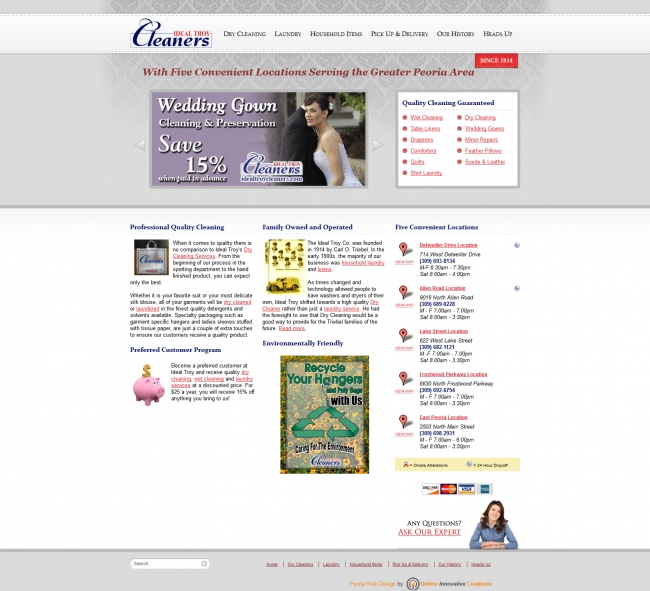 Tags:
Dry Cleaners Web Design Peoria IL
Ideal Troy Cleaners
Your quest for a Peoria web design company that can meet your website needs is over. Here at OIC Group, we provide custom web design services with a local market focus in Peoria, IL. Our website services include much more than just web design. We offer expertise in custom web development, CMS integration, and Internet marketing services. Regardless of the nature of your business, our services for
web design in Peoria IL
can fit the bill. The Peoria website design showcased above is for
Ideal Troy Cleaners
. In an effort to expand its reach, Ideal Troy Cleaners partnered with OIC Group for a new web design, along with search engine optimization services. In addition to an optimized re-design of the website, the site for Ideal Troy Cleaners offers a number of great features. On the homepage of the website, an image gallery slide show displays monthly specials and promotions for customers. The new website also features an "Ask Our Experts" section, which utilizes the
dynamic form builder
of OIC Group's Exponent CMS.
SEO-Friendly Website Design
Almost all of our website projects are planned and organized around SEO. Our experts develop the back-end coding structure, or HTML, of each website to be highly SEO-friendly for seamless search engine crawling and indexing. Additionally, by using our Exponent content management system, users have the ability to optimize each page of the website with ease. In essence, our
Peoria website design
company can make sure that any website we create is fully prepared for search engine optimization.
Local Web Design in Peoria IL
Our local services for
web design Peoria IL
center on being both SEO-friendly and CMS integrated. In addition to providing custom web design and development services, we also provide technical and strategic web marketing services to help your company achieve its online goals. We offer expertise in a wide range of online marketing services, including search engine optimization (SEO), Pay Per Click (PPC) advertising, and social media marketing.