Back to Portfolio Listings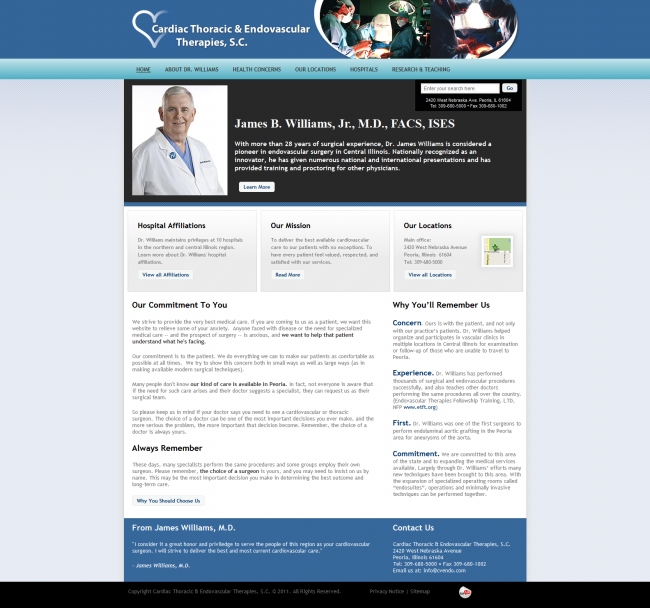 Tags:
Doctor Web Design Peoria IL
Cardiac Thoracic
The search for the perfect doctor web design in Peoria IL is over. At OIC Group, we create websites that can be custom designed to reflect any physician's practice or healthcare clinic. We have the capacity to design websites to meet the needs of local doctors, surgeons, and therapists, as well as more complex sites for large hospitals. Our Peoria web design team offers a wealth of expertise for healthcare professionals and we can tailor a website to meet your unique needs and online objectives. The doctor web design showcased above is for Cardiac Thoracic, or Cardiac Thoracic & Endovascular Therapies, S.C. in Peoria, IL. The company came to us needing a modern website design that highlighted their local healthcare practice and core offering of medical services. The Peoria web design project included a complete re-surfacing of the original website's look and feel, as well as video integration and SEO services to promote the company's services. The end result is a user-friendly website that encompasses the unique specialties of Cardiac Thoracic, along with the locations in which the office serves.
Skilled Peoria Web Designers
Our skilled team of Peoria web designers can take the unique elements of your brand and apply them to an original website design that reflects your medical practice. Unlike other sources for web design, our website services are comprehensive, affordable, and always unique. So whether you are building a health and wellness blog or complete website for a city hospital, our experts can help.
Local Web Design Peoria IL
If you're on the search for a local team of experts for web design in Peoria, OIC Group is your comprehensive solution. Not only do we offer professional services in web design and website development, but we also provide the necessary technical and strategic marketing capabilities to help achieve your of goals. We provide services in web hosting, email hosting, event registration, CMS software, as well as a number of Internet marketing services, such as SEO, PPC advertising, and social media marketing. Our Peoria web design company is dedicated to providing the local organizations of Peoria Illinois with top quality website services and reliable support.