Back to Portfolio Listings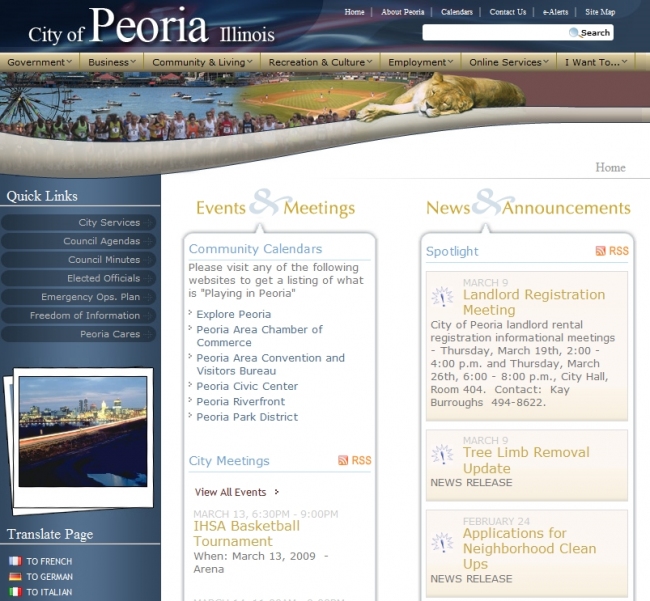 Tags:
City Government Web Design Peoria IL
City of Peoria
The search for a city government web design in Peoria IL is over. Here at OIC Group, we specialize in custom web design services for government agencies, local organizations, and other related entities. Our Peoria web design company has the capacity to create websites to include all of the essential information and media that suits the nature of the organization and its target audience. The web design showcased above is for the City of Peoria. This particular website is equipped with a wide range of features, such as online calendars, RSS news feeds, document download, and dynamic forms. The website is deep with information on over 700 pages, all of which can be edited using the Exponent CMS. This enables City of Peoria staff members to make ongoing edits and updates with ease.
Legally Compliant Websites
We offer a wealth of experience designing and developing websites for non-profits, charity foundations, local organization and governmental entities. We can ensure that any web design project we undertake is legally compliant with all of the necessary website elements. We are capable of implementing any custom web design attributes to meet any requirements or website objectives.
Local Peoria Web Design Experts
If you're looking for a local company for web design, Peoria IL based OIC Group is your full-service solution. Our team of Peoria web design experts is committed to providing the local businesses of Peoria exceptional web design services that are both fully custom and CMS integrated. As a reliable company that you can count on, we emphasize open communication with our clients, and we listening to every detail and request they might have. And although our Peoria web design company is composed of small yet personalized team of experts, we provide big agency services at small business prices.