Back to Portfolio Listings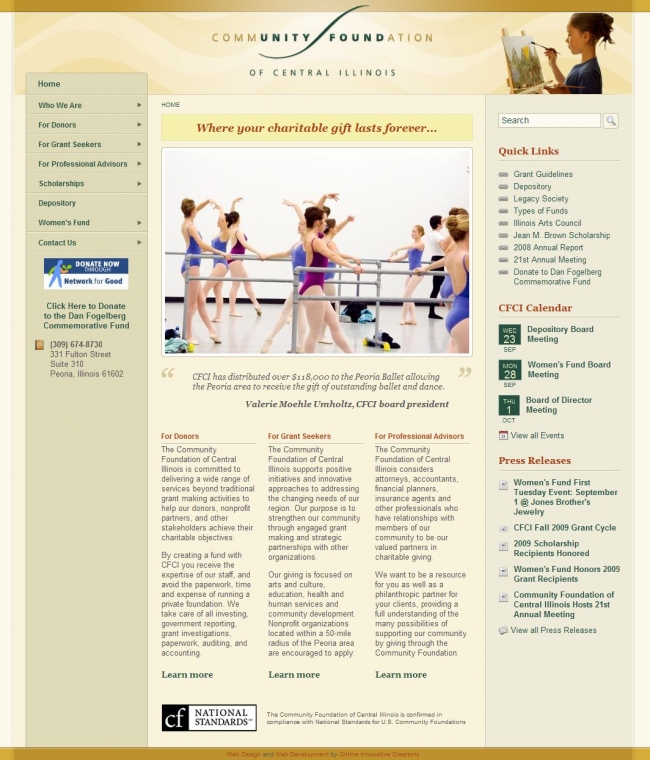 Tags:
Charity Web Design Peoria IL
Community Foundation of Central Illinois
The search for a charity web design in Peoria Il is over. Here at OIC Group, we offer a wealth of experience designing websites for charitable foundations, non profits, and other related organizations. Not only can we create a website that matches the exact look and feel you desire, but our Peoria web design team can implement any website elements and functionality, ranging from online donations to event registration. The web design showcased above is for the Community Foundation of Central Illinois.
The Community Foundation of Central Illinois (CFCI) is a non-profit organization committed to the sustainability and quality of life in central Illinois. The website for CFCI uses OIC Group's CMS software so users can frequently update news articles and scholarship document downloads. Also featured on the site is a dynamic, descriptive slide show on its homepage which captures the central theme of the organization.
Local Web Design Services
At OIC Group, we have built websites for a number of non-profit organizations, charity foundations, local chambers, and governmental entities. Our services for web design Peoria IL can include any custom design elements as well as any necessary forms of content, such as calendars, registration forms, document downloads, and more. In short, our web design team can include any features to meet virtually any website requirements and online goals.
Peoria Web Design Professionals
If you're looking to work with a local company for web design in Peoria Il, OIC Group is your optimum solution. Our Peoria web designers are dedicated to providing exceptional website design services that are fully custom, SEO friendly, and CMS integrated. As a dependable website provider, we provide personalized services and ongoing support. Whatever your web design needs may be, trust our experts at OIC Group to help.