Back to Portfolio Listings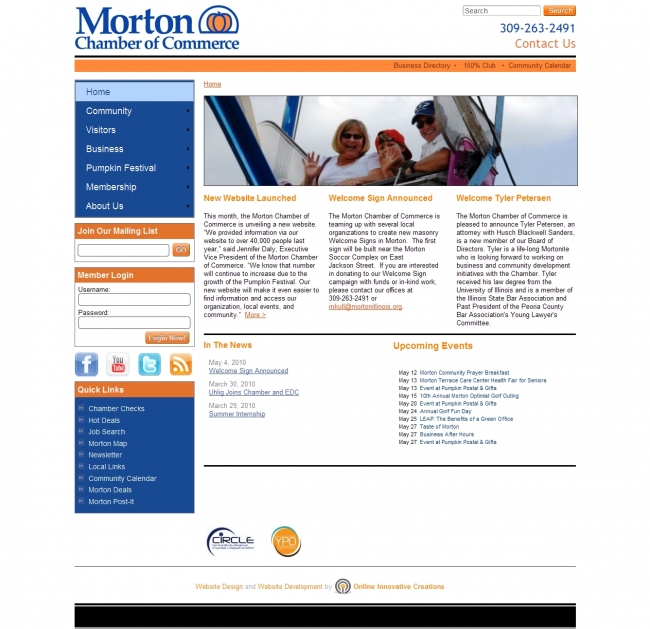 Tags:
Chamber of Commerce Web Design Peoria IL
Morton Chamber of Commerce
The search for a chamber of commerce web design in Peoria IL is over. Here at OIC Group, we have a high degree of experience in custom web design services for government offices, chambers, charity foundation, non profits, and other local organizations. Our Peoria web design team offers the expertise to design and develop a website to include all of the essential content and media that best meet any organization's needs. The website design showcased above is for Morton Chamber of Commerce, located just outside of Peoria, Illinois. The Morton Chamber of Commerce teamed up with OIC Group in 2010 to re-design its website for cleaner, more attractive look and feel. The Peoria web design professionals of OIC Group built the website on the Exponent CMS, enabling Morton Chamber staff members to seamlessly control and manage the content of the website. Additionally, the new website for Morton Chamber of Commerce also integrates a third-party Chamber Master calendar, as well as numerous business directories and contact forms.
Local Web Design Services
At OIC Group, we offer a high degree of experience building websites for non-profit organizations, chambers, charity foundations, local and governmental entities. Our services for web design Peoria IL can ensure that any project we undertake is legally compliant and populated with all requested content and website elements. We can add any custom web design attributes to meet virtually any requirements and online objectives.
Peoria Web Design Professionals
If you're interested in working with a local web design company, OIC Group is your full-service solution. Our team of Peoria web design experts is dedicated to providing exceptional website design services that are fully custom, SEO friendly, and CMS integrated. As a reliable website provider, we emphasize open communication with our clients and provide quality ongoing support. And although our Peoria web design company is composed of small yet personalized team of professionals, we deliver comprehensive solutions for all of your website needs.